An extravaganza holiday special for two days with the Moose Brothers!
Brothers Fake and Elkwood Moose were born and raised in Nova Scotia, Canada.
After being banished from their hometown for disorderly conduct, the brothers moved to Calumet City, Illinois. Here is where the musical career of the Moose Brothers has its beginnings.
It all started when an apparition in the form of a gigantic moose head appeared before the brothers one night and told them, in an omnipotent voice, to start a blues band. Unfortunately for Fake and Elkwood, another pair of brothers in the same city had a similar vision. As a consequence, two blues bands were founded in the same city, at the same time, performing the same repertoire.
A long legal battle between the two pairs of brothers ensued and the Moose Brothers were fined, sent to prison and exiled to Sweden.
Now after serving their time, the Moose Brothers have come to Sweden to pick up where they left off. Playing the rhythm ´n Blues as only they can – in a show packed with more sweet, more energy and more music than any other brothers in the business.
————————————
Det är som vanligt fri entre(!) och otroligt trevlig meny.
Boka bord för att vara säker på att få plats via www.akkurat.se
Observera att bordsbokning endast är till för matgäster där samtliga i sällskapet äter middag ur vår á la carte-meny.
Det går även att komma på drop-in då vi endast bokar upp hälften av borden.
Kl 19:00 står bandet på scen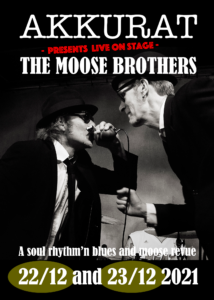 ————————